Everything you need to know about Cheok Jun-gyeong in Rise of Kingdoms!
Cheok Jun-gyeong and Pakal II are the two new commanders getting released together in the update!
Cheok Jun-gyeong
Rarity: Legendary

Korea

Infantry |
Versatile |
Attack
Advantages and Disadvantages
Advantages
Excellent Legendary Infantry Commander for Open-Field.

Great damage skill.

Great skill damage reduction.

Powerful on the map.

Excellent damage against cavalry.
Disadvantages
Does not have any healing factor.

Debuff against archer commanders/units.
Cheok Jun-Gyeong Summary
Cheok Jun-Gyeong (CJG) is an extremely powerful commander for Open-field who comes to Rise of Kingdoms specialized in leading Infantry units, ideal for this type of civilizations and own units.
Specialized in Open-field, he has fearsome skills and talents to any enemy.
The active skill "Courageous" causes a lot of damage to the enemy and if it decreases the strength of the target to below 30%, it further increases the damage of this skill, unique in its kind and of great impact.
"Byeolmuban", a passive skill that empowers the infantry under his leadership, at the same time increases the damage they cause towards the cavalry, but nevertheless the archers will also do more damage to his army, a double-edged that we must know how to use in the open -field.
"Stalwart" his skill, being improved with the "Expertise", is incredible because of its effectiveness in open-field. It decreases with a high probability the damage that CJG receives per skill.
"Sacrifice" is added another powerful skill only to lead infantry troops where they gain a series of improvements such as march speed and probability of causing more damage.
Cheok Jun-gyeong Skills
Courageous
Active Skill
Deals direct damage (damage factor: 1700) to the target. If the target has been reduced to 30% or less units remaining, deals additional damage (damage factor: 300).
Upgrades:
Direct Damage Factor: 900/1100/1300/1500/1700
Additional Damage Factor: 100/150/200/250/300
Byeolmuban
Passive Skill
Infantry units led by this commander gain 40% increased attack. They deal 5% increased damage against cavalry, but take 5% more damage from archers.
Upgrades:
Infantry Attack Bonus: 20%/25%/30%/35%/40%
Infantry Damage vs. Cavalry increased: 1%/2%/3%/4%/5%
Stalwart
New Skill
While on the map, troops led by this commander have a 40% chance to take 50% less skill damage. This damage reduction effect can trigger once every 4 seconds.
Upgrades:
Damage Taken Reduced by 20%/25%/30%/40%/50%
Sacrifice
Passive Skill
If troops led by this commander consist only of infantry units, they gain 15% increased march speed with a 100% chance of dealing 5% increased skill damage for 8 seconds when attacking. This effect can trigger once every 4 seconds and can be stacked up to 8 times.
Upgrades:
March Speed Bonus: 3%/6%/9%/12%/15%
Probability: 50%/60%/70%/80%/100%
Skill Damage Bonus: 1%/2%/3%/4%/5%
Vow to the Death
Enhanced Skill: Stalwart
While on the map, troops led by this commander have a 40% chance to get incoming skill damage reduced by 50% and deal skill damage to up to 3 enemy targets in a fan-shaped area (damage, factor: 50).
Damage from this attack is reduced by 15% per additional target.
This ability can trigger once every 3 seconds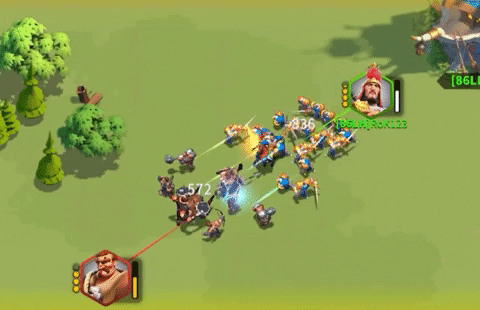 Best Cheok Jun-gyeong Talent Trees
Cheok Jun-gyeong is a commander specialized in Infantry and Open-field!
Although we would like to give him a different approach with other talents, it is difficult thanks to the fact that "Versatility" has a completely null talent tree, and his specialty forces him to have a completely offensive formation, making him a fearsome commander for Open-field.
Open-field Build
Versatility Talents
This time we will not use any of the talents of "Versatility". This is not a recommended talent tree for any commander in the game.
Attack Talents
Armored Joints: Reduces all damage taken by 1.5%. CJG more resistance.
Unyielding: Increases counterattack damage dealt by 1.5%. Our troops will return more damage to our enemies.
Burning Blood: Grants an additional 6 rage every time this commander's troops are attacked. Good talent.
Lord of War: When troops led by this commander enter battle, increases attack by (1.5% X Commander Star Level) %. Multiplying the maximum possible star, 6 x 1.5 = 9% Attack for our troops. Excellent!
Effortless: During battles, increases all damage dealt by 2.5% every 10 seconds (up to a maximum of 10%). Thanks to his skill, CJG in open field will be a difficult commander to defeat, ideal for long battles, this talent is essential since in a maximum of 40 seconds of battle we can increase our attack by 10%. Great!
Infantry Talents
Iron Spear: Infantry units led by this commander deal an additional 9% damage to cavalry units. CJG is a leading infantry commander, ideal for fighting and defeating units and cavalry commanders, "Iron Spear" + "Byeolmuban" = 14% additional damage against cavalry.
Undying Fury: Normal attacks grant an additional 9 rage.
Double-Headed Axe: Increases normal attack damage by 1.5%. An extra damage gain for our troops.
Call of the Pack: When the army led by this commander has been reduced to 50% strength, increases defense of all troops by 6%. This talent is perfect for long battles, it will make our commander and troops stay much longer fighting thanks to this defense gain.
Strong of Body: Increases health of infantry units by 6%. We will have an infantry with much more health in open field.
Hold the Line: When the army led by this commander contains only infantry units, gives troops a 10% chance to reduce damage taken by 20% for the next 2 seconds after being attacked. Excellent!
Snare of Thorns: Gives normal attacks a 10% chance to reduce target march speed by 20% for the next 2 seconds. Even if it is by probability, it can be very useful if we pursue an enemy while attacking it.
Elite Soldiers: When the army led by this commander contains only infantry units, attack, defense and health are increased by 2.5%. Perfect! We should only use infantry units.
Consider that the best way to to use him right now is as the secondary commander for
Best Commanders Pairings for Cheok Jun-Gyeong
According to the tests from Wick Gaming (video below):
is exceptional in 1v1 but not good in AoE or in a big murderball.
is very well in 1v1 matchups but is very strong in huge fights.
In general, his power in the openfield is very similar to
Leonidas but CJ has better damage.
will replace the old
in the near future in both open-field fights and rally!
It's better to just use CJ as the secondary commander for now.
Best Equipment for Cheok Jun-Gyeong
Equipment
Delay time
Stats
40 Days
Infantry Attack +13%
72 Days
Infantry Attack +8%
48 Days
Infantry Attack +8%
32 Days
Infantry Defense +5.5%
48 Days
Infantry Health + 8%
32 Days
Infantry Defense +5.5%
Total
272 Days
Attack + 29%

Defense + 11%

Health +8%
Conclusion
In short, if you have Guan Yu and Alex, you can absolutely consider putting Alex somewhere else and max out Cheok Jun-gyeong to have him behind your Guanyu as the secondary commander!
He is really worth a shot!